Big Bass Crash Slot - Fishing for Fortunes!
Based on popular slot title, Big Bass. The Big Bass Crash offers players the exciting chance to make real-time decisions as they join a well-known fisherman on a captivating journey to catch an abundance of Big Bass and snag significant prizes.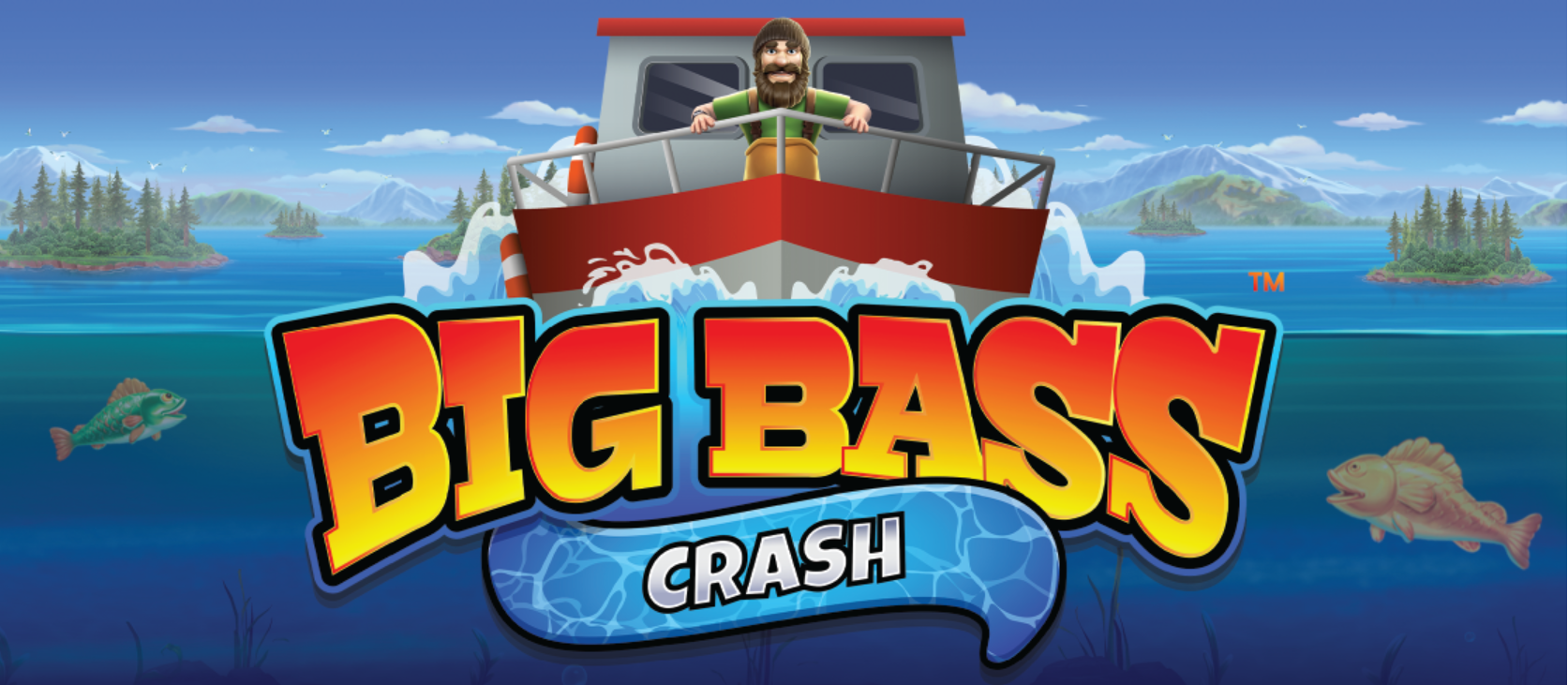 *New players only, £10 min fund, £8 max win per 10 spins, max bonus conversion equal to lifetime deposits (up to £250) to real funds, 65x wagering requirements and full T&Cs apply here.
If you're a fan of fishing-themed slot games, Pragmatic Play has a real catch for you. Their latest addition to the "Crash" portfolio, Big Bass Crash, takes the popular Big Bass series to a new level of excitement. In this review, we'll explore the depths of this game, its unique features, and how it keeps players hooked. 
Big Bass Game Info
Before you embark on your fishing expedition in Big Bass Crash, it's essential to understand some basic game information. The game boasts a respectable Return to Player (RTP) rate of 95.50%, offering a fair chance for players to secure wins. The volatility of the game is also moderate, striking a balance between frequent pay outs and more substantial rewards. 
Highlighted Features:
Offers a maximum multiplier of 5,000x and a potential win of up to £500,000.
Distinguishes itself with the exclusive Cash out 50% functionality.
Immersive gameplay enhanced by exceptional graphics and captivating sound design.
Prior to the game, provides a summary displaying the total number of players and the cumulative bet amount for the current game round.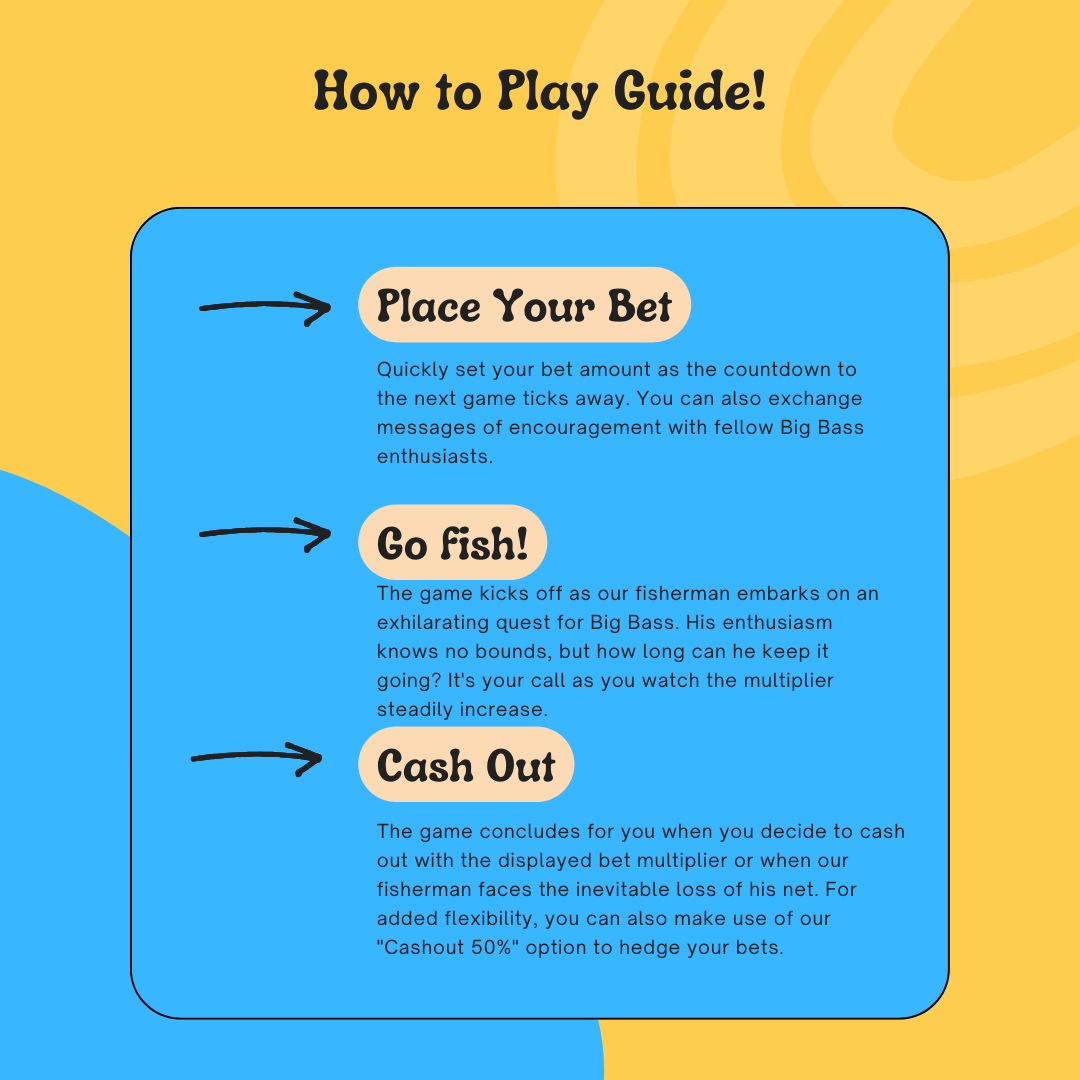 The Big Bass Universe
Before we dive into Big Bass Crash, let's take a moment to appreciate the extensive Big Bass family of games. If you're an angling enthusiast who enjoys the thrill of fishing-themed games, you're in for a treat. The Big Bass series includes:
Each of these games offers its own unique take on the fishing theme, ensuring you have a variety of underwater worlds to explore.
Big Bass Crash Unleashed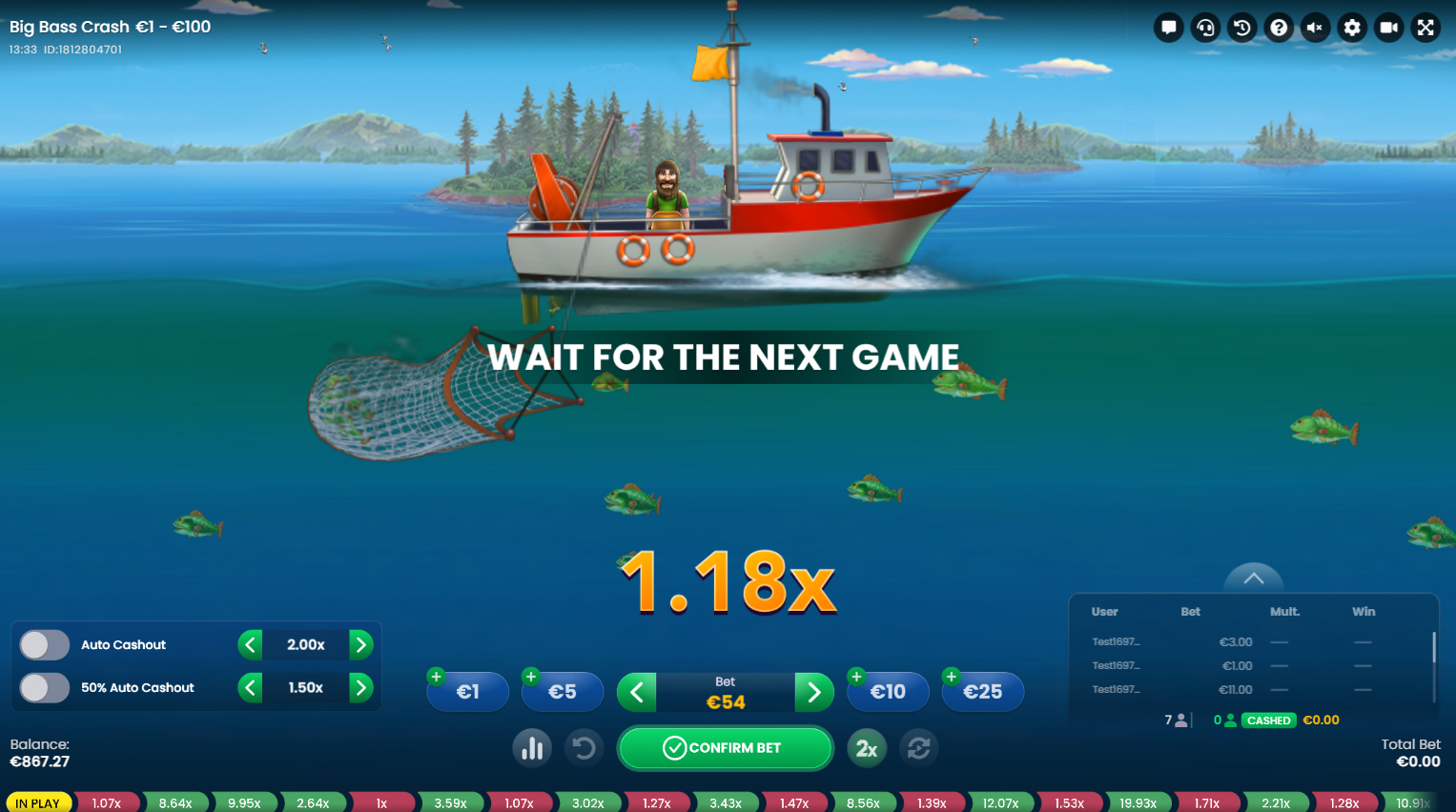 Big Bass Crash slot is Pragmatic Play's latest creation, building on the success of its award-winning Slots series. In this game, you'll join a familiar fisherman on his quest to reel in as many Big Bass as possible. What sets this game apart is the real-time decision-making element. You won't just be spinning the reels; you'll be making choices that can impact your winnings.
An Immersive Experience
As soon as you launch Big Bass Crash slot, you'll find yourself in a vibrant underwater world. The game's graphics and animations create an immersive environment that truly captures the essence of fishing. But Big Bass Crash takes it a step further.
One of the standout features of this game is the social atmosphere it fosters. Thanks to live leader boards and multiplayer chat, you can connect with fellow players, making it a more interactive experience. Fishing has never been this sociable!
Reel in the Wins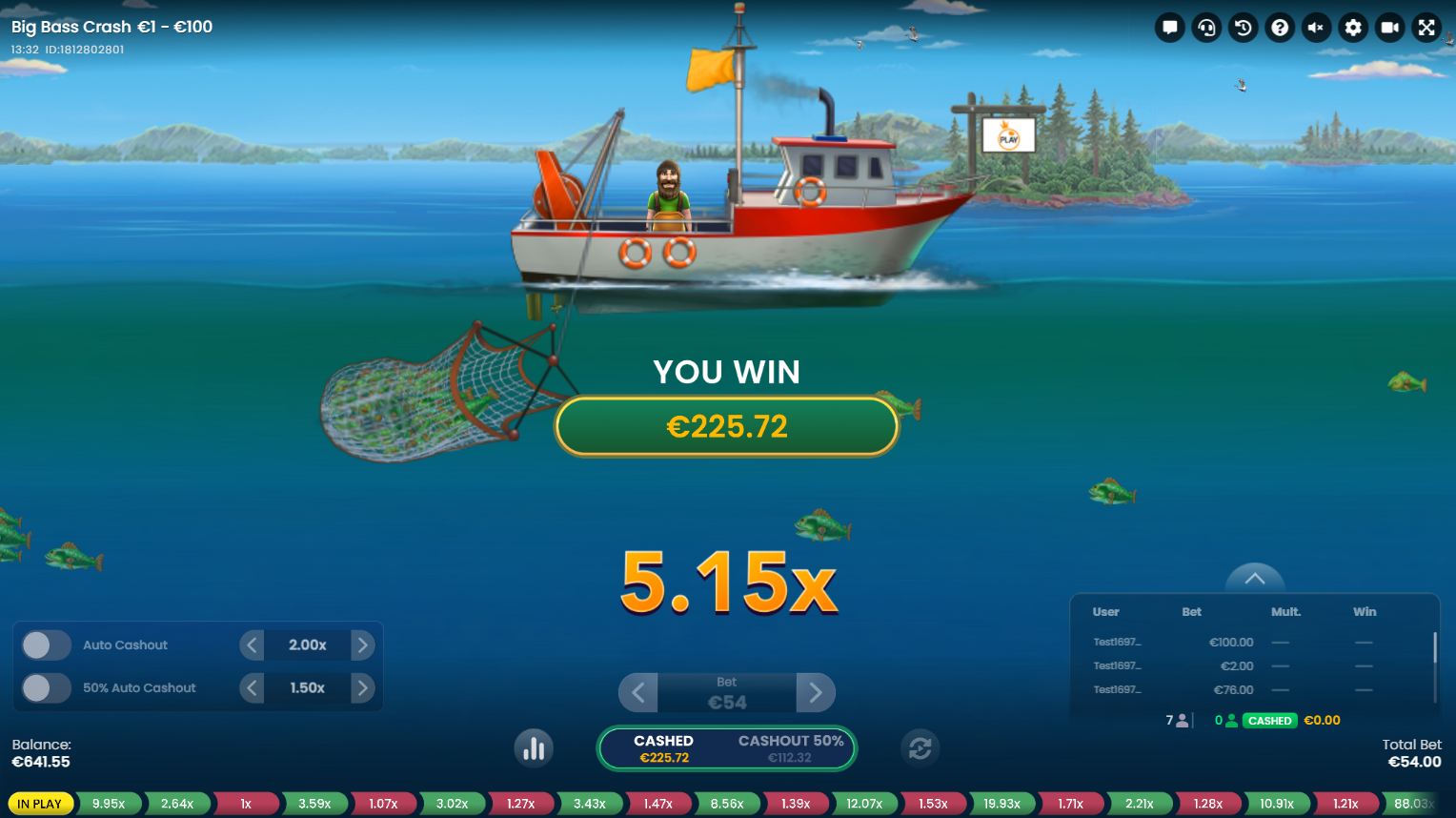 The primary objective in Big Bass Crash is to reel in a win. To do this, you'll need to cash out before the fisherman loses his net, and the inevitable crash occurs. It's a thrilling race against time as you decide when to secure your winnings.
Here's where Big Bass Crash introduces an innovative feature – the Cash out 50% option. This option allows players to lock in their winnings for half of their bet and then decide whether to take the riskier path with the remaining funds. It's a strategic element that adds an extra layer of excitement to the game. Do you cash out early for a guaranteed reward, or do you take a chance for a bigger win?
Play Big Bass Crash slot for real money at Amazon Slots
In the world of fishing-themed slot games, "Big Bass Crash" emerges as a shining catch. Pragmatic Play has elevated the fishing game genre by adding real-time decision-making elements and interactive features that make it more engaging than ever. The social atmosphere created by live leader boards and multiplayer chat sets it apart from its competitors.
With a solid RTP and balanced volatility, "Big Bass Crash" ensures that players have a fair chance at reeling in impressive wins. Plus, the Cash out option adds an extra layer of strategy and excitement to your gaming experience.
So, if you're ready to embark on a fishing adventure like no other, give Big Bass Crash slot a spin. Join the fisherman, make quick decisions, and dive into the world of underwater riches. Whether you cash out early or take a risk for a bigger reward, "Big Bass Crash" promises an unforgettable angling experience.  
FAQs
Q. Is Big Bass Crash Slot available for free play?
A. Yes, try Big Bass Crash in a demo mode at Pragmatic Play, allowing you to play without real money. It's a great way to get a feel for the game before wagering.
Q. How does the Cashout 50% feature work in Big Bass Crash Game?
A. The Cashout 50% feature in Big Bass Crash Slot allows players to secure half of their winnings and continue with the other half to chase bigger rewards. It offers a strategic twist to the game.
Q. What is the maximum win in Big Bass Crash Slot?
A. The game offers a maximum multiplier of 5,000x, which can result in a maximum possible win of £500,000. Landing this significant prize requires strategic decision-making.