Golden Jokers Wild Online Slot Review
If you're looking for a nostalgia trip, try out the Golden Jokers Wild slot machine. Popular developer Microgaming have created a shining example of doing a classic right. The Golden Jokers Wild is simplicity in itself, with a couple of touches to keep things fresh, which is good with all the fruit around.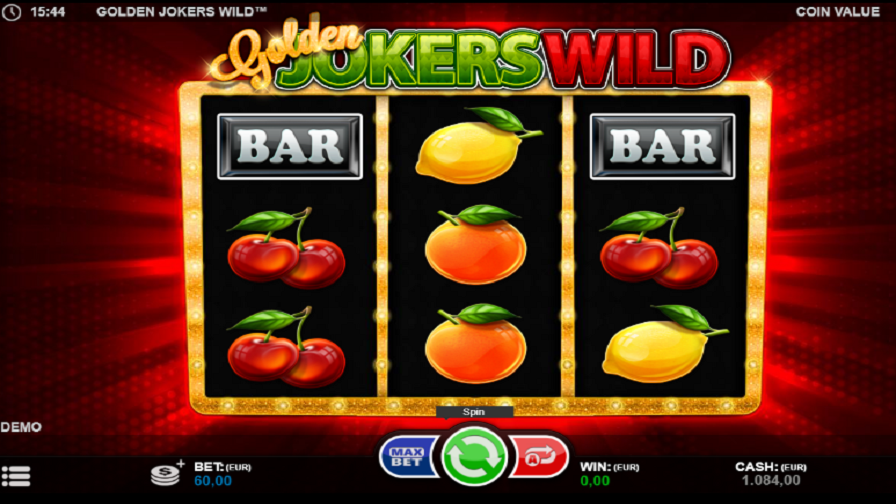 That's right, this slot machine combines the classic joker with the fruit machines you know from in-land casinos that are as old as the concept of slots themselves. There isn't any fluff, no extravagant themes, no extra reels, no features that take a degree to understand, just you, the joker and the fruit combining to win coins. 
So, what are you waiting for? Try it out for yourself and you will see just how much you can gain from an old favourite. 
Game Info
Provider
Microgaming
Jackpot
No
Reels
3
Paylines
5
Stakes Range
0.20 to 200
Free Spins/Multiplier
Variable free spins and multipliers
Max Win
No
RTP
96.95% 
Volatility 
N/A
How to Play Golden Jokers Wild?
As mentioned, the Golden Jokers Wild slot is very simple. It's played on a 3x3 board with 5 available paylines to gain from. Connect three and gain some gold, just the way it should be. As long as your matches run across the board at least semi-horizontally, you have a payline and you will win.  
Spin through icons you remember from land-based casinos and other top slots online, including the 7, the joker, the star, the bar, the orange, the plum, the cherry, and the lemon. There is also a golden joker symbol that will appear as part of the features, so there is plenty to keep you entertained as you play. 
Golden Jokers Wild Gameplay and Features 
The Golden Jokers Wild slot hasn't overdone it with the features. The Joker does all the work herself. She might appear in her original colourful form as a wild symbol and substitute for any other icon, creating more paylines as she goes, or she might appear in golden form.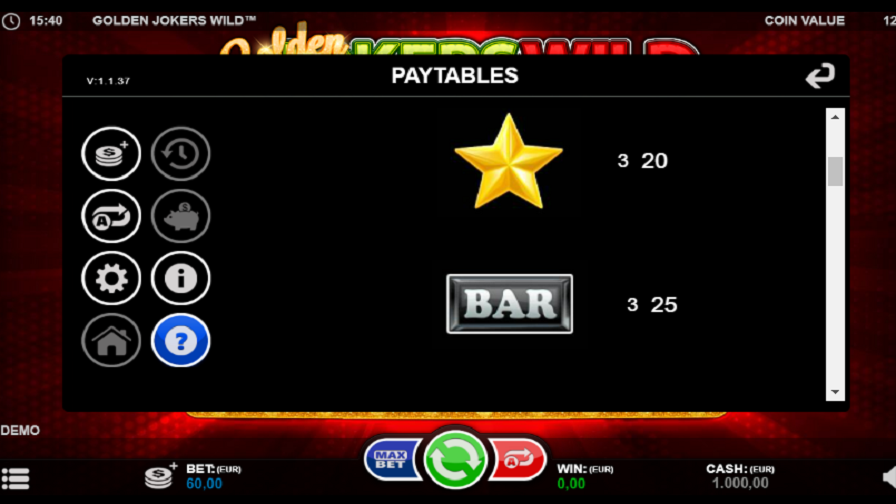 When a stack of regular Jokers appear on a single reel they will be transformed into gold and endued with new powers. Now the golden joker wilds are locked in golden jokers. They will trigger the respin feature and stay in place, substituting for any paying icons that pass on the reels. This makes for a quick and high stack of coins. 
During your Golden Joker Respin feature, the reel will expand into four. This last reel is shielded and will stop in relation with the main reels. When you get a win on this reel the shield will lift and you will be hit with a multiplier. 
RTP & Volatility 
Golden Jokers Wild has an RTP of 96.95% and a high volatility, for a game that offers loads of thrills and plenty of chances to win. 
The Golden Jokers Wild slot is the perfect game for players who are looking to relax and perhaps enjoy some past gambling memories. It is a more straightforward game than most, allowing the player to win, but enjoy the act of playing slot machines as much as winning.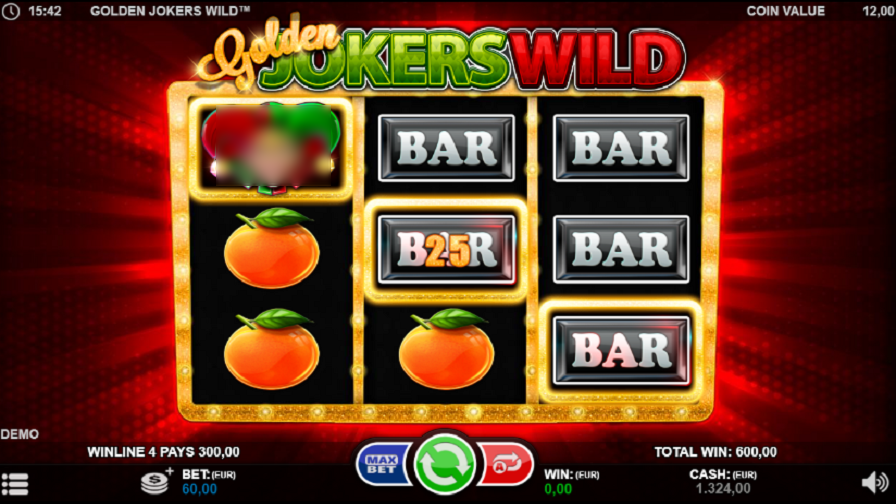 If you have fun memories of the land-based casinos of Vegas or other top online slots games from Microgaming such as Bars & Stripes or Diamond Inferno you will love this new edition of an old favourite. The graphics are updated to look shiny and delicious; the Joker gives you a cheeky smile, and as we've already outlined, she'll give you a lot of help in stacking coins too. 
If you're looking for a more relaxing slot game after too much time on an alien planet being assaulted with bright colours or features that you don't understand, you can try out the Golden Jokers Wild slot machine for a more chill slot machine and not sacrifice your desire for loads of coins. 

FAQs
Does the Golden Jokers Wild slot offer any free spins?
Golden Jokers Wild slot offers a respin feature that will trigger when you see three jokers in a reel. 
What is the RTP of the Golden Jokers Wild slot?
The RTP of the Golden Jokers Wild slot is 96.95%. 
What is the maximum win on the Golden Jokers Wild slot? 
There is no maximum win limit on the Golden Jokers Wild slot. 
How many reels are in the Gold Jokers Wild slot?
The Golden Jokers Wild slot is a classic example of a three-reel slot machine, and also comes with 5 paylines.