20p Slot Online 
The 20p Slot game is by far the most traditional and classic slot machine in our casino. It has everything from the simple layout to fruit symbols and a soundtrack with all the usual bells and whistles. In other words, 20p Slot screams out retro gaming, and our members at Amazon Slots Casino love it. Of course, it allows those simple stakes of 20p as well, which is always a nice touch for those who want to bet small and still enjoy the casino and slots experience.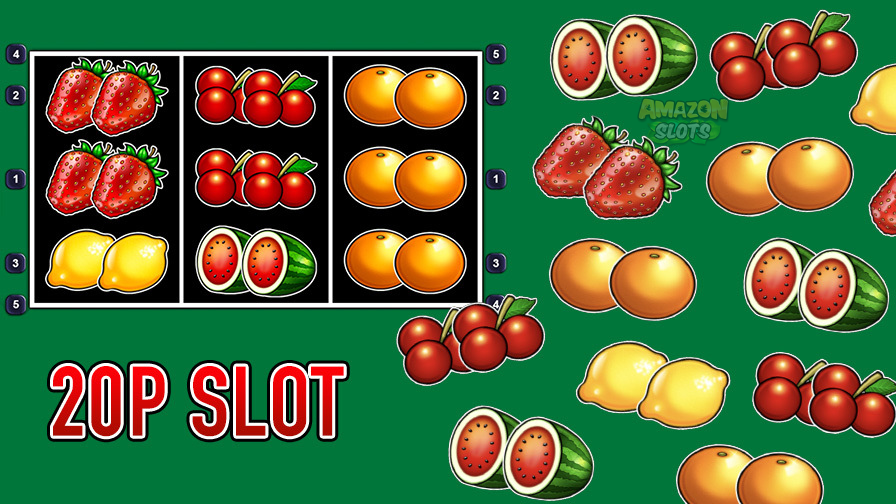 How to Play 20p Slot? 
Playing the 20p Slot game is about as easy as it comes when talking about slots. There are five paylines, three reels, three rows, and a big spin button. We'll talk about the features shortly, but first, a quick step-by-step playing guide to help anyone completely new to slots:
Read through the payable and get comfortable with the rules.
Choose your total bet using the '+' and '-' buttons.
Decide if you want to activate the Fortune Bet feature.
Hit the big green spin button to trigger the reels and start the game.
Repeat and spin!
20p Slot Game Details
Playing the 20p Slot does not take much experience because of its simple layout and rules. There are no fancy graphics or animations here. It's just you and the reels. All the game buttons are listed across the bottom of the game screen, including Paytable, Options, Total Bet, Autoplay, Fortune Bet, and Spin.
All the options are self-explanatory, with a turbo spin setting and a history page for details on your past spins. You also have the auto-play settings, which lets you choose between 5-100 auto-spins, and there are additional loss limits and single-win settings. The Paytable provides all the symbol and payout information and is a handy page to see how you can pick up prizes.
"Experience the true feeling of retro slots gaming with when you play 20p Slot"
Game Info
Game  – 20p Slot
RTP – 95.00%
Betting Limits – £0.20 to £250
Maximum Payout – £250,000
Volatility – Medium
How Do You Win?
Winning on 20p Slot all comes down to luck, which is what you expect from any slot machine. However, there are various prizes available if you do get lady luck on your side and hit some winning three-symbol combinations. The paytable provides all the detailed payout information, but here are some possible prizes that you can expect.
The lower paying symbols like the orange can offer 40x your stake, whereas the higher paying symbols such as the strawberries and golden bells offer 200x your stake. The red 20p Slot logo brings back 500x your stake, and the top golden 20p Slot logo maxes out at 2,500x your stake. Take note all these multipliers are combined with your line bet – your total bet divided by five.
20p Slot Features
We said that 20p Slot is a straightforward game, which certainly shows when it comes to the features. Nowadays, modern slots have multiple bonus features and bonus game screens, but this slot is all about the traditional casino experience. So, the one and only bonus feature in the 20p Slot game is called Fortune Bet, and it works like this:
Activate the Fortune Bet feature via the icon next to the green Spin button.
It costs slightly more to play with the Fortune Bet feature activated.
Once activated, all the top golden 20p Slot symbols act as Wilds.
The wilds substitute for all other symbols to help create more winning combinations.
"Trigger the Fortune Bet feature to get the special bonus Wild symbols into play"
20p Slot Volatility
The 20p Slot game is based on medium volatility, meaning it's a well-balanced slot that provides a fair win rate for both small and big prizes. As with any slot game, you should carefully calculate your budget and stick to it. Games with medium volatility, like 20p Slot, are considered less risky than highly volatile slots, making this game suitable for casual players and lower budgets. Still, we see many types of players giving the 20p Slot reels a spin purely for the retro design and classic gameplay.
Pros & Cons
Pros
Classic retro slot machine theme
Low 20p stake limit suitable for every budget
Wild Fortune Bet bonus feature
Betting limits up to £250 per spin
Medium volatility gameplay
Cons
The simplistic design may not suit modern slots players
Only one bonus feature is included in the game.
FAQ
Q. Can I play the 20p Slot game for real money?
A. Yes, you can play 20p Slot for real money. Amazon Slots provides its members both demo and real money versions of the game.
Q. What is the safest bet in 20p Slot?
A. To begin with, you should bet the minimum wagers to suit your bankroll. The Fortune Bet feature requires a slightly higher cost per spin, so make sure your budget allows for the extra costs.
Q. Can I play 20p Slot on mobile?
A. Yes, 20p Slot is available on mobile. You can open and play this game on smartphones, tablets, and small-screen devices.
Q. What is the volatility of 20p Slot?
A. The volatility of 20p Slot is set to medium. The game offers balanced win-rate gameplay suited to lower budget players.
Q. What is the maximum I can stake when playing 20p Slot?
A. The maximum betting stake limit on 20p Slot is set to £250 per spin. While the game offers a low 20p stake, it also allows bigger budget players to spin the reels.
Q. What is the best strategy for 20p Slot?
A. The only strategy when playing 20p Slot is to stick to your budget. Choose a suitable total bet and then stick to that, and don't spend all your bankroll in one session.
Q. Is 20p Slot a trustworthy game?
A. Yes, 20p Slot is designed by Inspired Gaming, a well-known game provider in the online casino business. You can trust all the games here at Amazon Slots.
Q. What is the biggest win on 20p Slot?
A. The maximum win on 20p Slot is set to £250,000. You'll need to play the bigger stakes and trigger the bonus feature to hit the top prizes.
Q. Is there a 20p Slot free demo?
A. You can play the 20p Slot free play game at our casino. Learn the game rules and get comfortable playing the slot before wagering your own money.