Chase for Glory Slot Review (Pragmatic Play)
Embrace the Arena, A Gladiatorial Showdown in Chase for Glory!
Prepare for the ultimate gladiatorial spectacle as you step into the arena of Chase for Glory by Pragmatic Play. This slot promises an epic showdown where players can unleash their inner champion. With a unique free spins bonus round and a diverse cast of gladiators, the game takes you on a thrilling journey through the highs and lows of ancient battle. 
Chase for Glory slot mirrors the gripping intensity of Hollywood's Gladiator epics, immersing players in an arena where strategic choices and fierce battles define the game. With diverse gladiators and a coin collection mechanic, the slot echoes the excitement of legendary cinematic tales. 
Key Game Information
Volatility: Very High
Minimum Bet: £0.01
Maximum Total Bet: £240
Max Exposure: 1,892,880
RTPs: 96%, 95%, 94%
Reels / Row: 5 x 3
Lines: 243 Ways to Win
Game Rules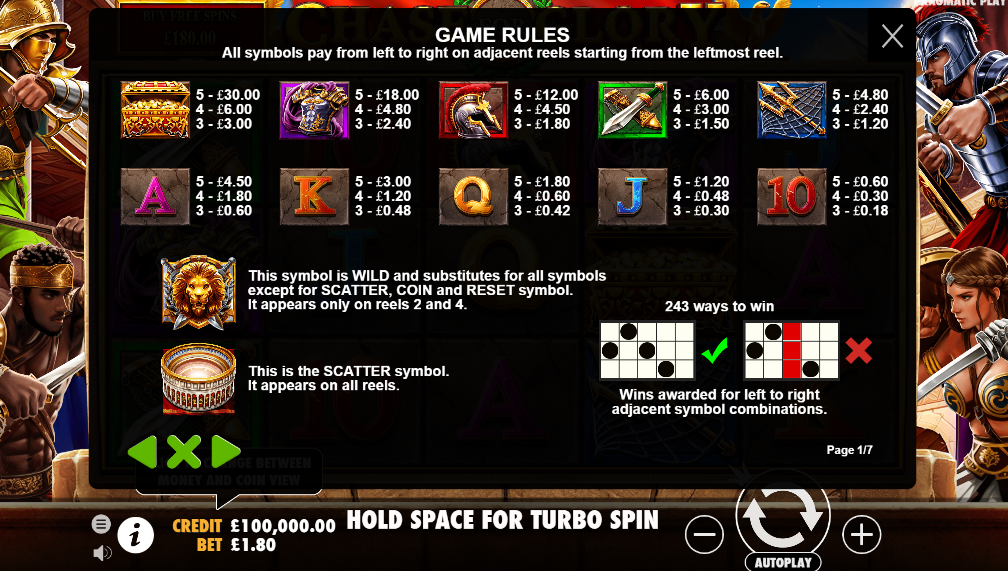 Theme & Gameplay
Transporting players to ancient Rome, Chase for Glory immerses us in the world of fierce gladiators from the Roman Empire. The Free Spins feature allows you to choose champions who fight on your behalf, adding a personalized touch to the gameplay. Our experience with Chase for Glory was thoroughly enjoyable, and we commend the provider for their creative approach to player-feature interaction. The thematic battle music in the background, especially its heightened tempo during Free Spins, enhances the overall gaming experience seamlessly.
Battle in the Arena 
Chase for Glory invites players to experience the excitement of an arena battle. Trigger the free spins bonus round by landing at least three Scatters during the base game, and the real action begins. The choice of champion is yours, with four distinct gladiators, each offering a different flavour to the gameplay.
Green Gladiator (25 Free Spins) Expect Wilds with x2 multipliers to enhance your potential winnings.

Red Gladiator (20 Free Spins) Unlock chances to land x2 or x3 multipliers, adding an extra layer of excitement.

Blue Gladiator (15 Free Spins) Enjoy the possibility of x3 or x5 multipliers, offering lucrative opportunities.

Purple Gladiator (10 Free Spins) Dive into a high-risk, high-reward scenario with guaranteed x5 multipliers.
Coin Collection Mechanism
During the bonus round, coin symbols can land on any gladiator's reels, adding a strategic element to the game. The challenge is to collect as many coins as possible, but beware – a Reset symbol can reset the coin collection of the gladiator with the highest amount of coins to zero.
Victory and Rewards
If your chosen gladiator collects the most coins, you're awarded the winnings accumulated by all four gladiators during the entire bonus round. It's a fierce competition where strategic choices can lead to glory and substantial rewards.
Bonus Buy Option
For those seeking a shortcut to the action, the free spins bonus round can be triggered with a bonus buy in the base game for 100x the player's bet, adding an extra layer of excitement for those eager to dive straight into the fray. 
If you enjoy slot games with a Gladiator theme, you might find these titles Gates of Etherea , Gates of Olympus, Fury of Odin Megaways and Gems of Serengeti appealing as well! 
What to Expect?
1. Thrilling Volatility: Brace yourself for a rollercoaster of highs and lows with "Chase for Glory's" very high volatility, promising an adrenaline-fueled gaming experience.
2. Diverse Betting Options: With a minimum bet of £0.01 and a maximum total bet of £240, the game caters to a wide range of players, from casual enthusiasts to high rollers.
3. Massive Winning Potential:  With a max exposure of 7,887x the bet, the game offers the potential for substantial winnings for those who dare to enter the arena.
4. Dynamic RTP Options: Choose your risk-reward balance with multiple RTP options – 96%, 95%, or 94%.
5. Innovative Game Format: Chase for Glory boasts a 5 x 3 game format, providing a familiar yet engaging setup for players.
6. Ways to Win: Explore the game's 243 ways to win, adding a layer of excitement and unpredictability to each spin.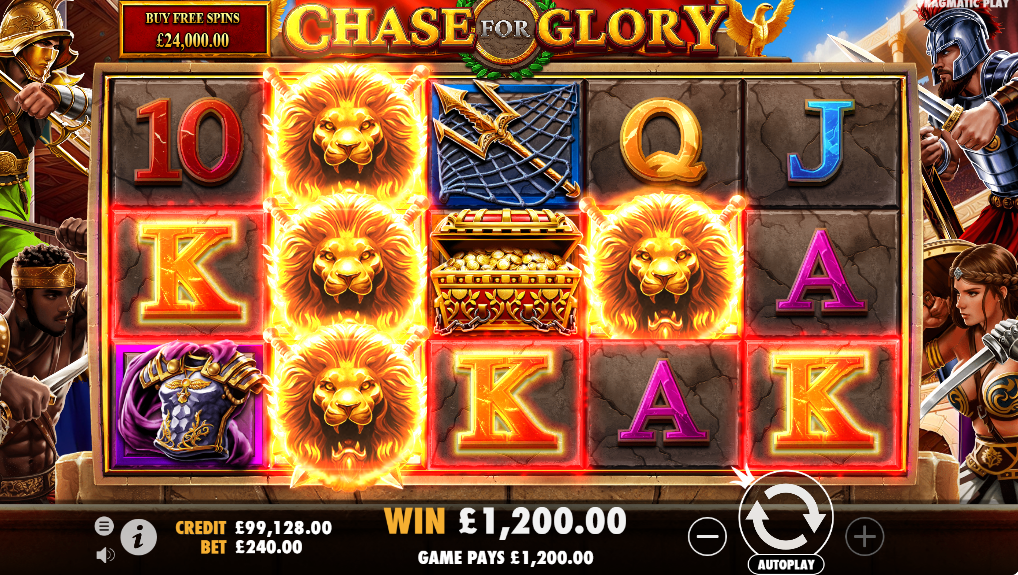 Play Chase for Glory slot at Amazon Slots 
Chase for Glory stands as a testament to Pragmatic Play's commitment to delivering immersive and innovative slot experiences. With its unique free spins bonus round, diverse gladiator choices, and strategic coin collection mechanic, the game offers a thrilling journey through the ancient arena.
Whether you're drawn to the excitement of battle or the potential for substantial rewards, Chase for Glory invites you to step into the arena and unleash the gladiator within. Will you emerge victorious and claim the glory that awaits in this high-stakes battle of the reels?
FAQs
Q. Can I play Chase for Glory on mobile?
A. Yes, Chase for Glory is designed with mobile compatibility, allowing players to enjoy the thrilling gladiatorial experience on their smartphones or tablets. Dive into the arena whenever and wherever you choose.
Q. What is the maximum win in Chase for Glory?
A. The game offers the potential for substantial wins, with a maximum exposure of 7,887x the bet. Get ready for an adrenaline-fueled journey where strategic choices could lead to glorious victories and significant rewards.
Q. Can I win real money playing "Chase for Glory"?
A. Certainly! The game provides the opportunity to win real money as you navigate the arena, making strategic decisions and collecting coins. Spin the reels, claim victories, and turn your gladiatorial adventure into tangible and thrilling rewards.