Rainbow Jackpots Slot


*New players only, £10 min fund, £8 max win per 10 spins, max bonus conversion equal to lifetime deposits (up to £250) to real funds, 65x wagering requirements and full T&Cs apply here. 
Venture into a vibrant and magical realm with Red Tiger's Rainbow Jackpots slot, where the allure of luck and the mischievous charm of Leprechauns come together in a whimsical adventure. In this comprehensive review, we'll delve into the enchanting details, bonus features, and overall gameplay that make Rainbow Jackpots a standout in the world of online slots.
A Glimpse into the Magical World 
Rainbow Jackpots transports players to a picturesque world adorned with four-leaf clovers, golden horseshoes, and the promise of hidden treasures. The Leprechaun, a mischievous guide, occasionally graces the reels, adding an extra layer of excitement to the gameplay. His appearances are marked by surprises, as he blows luck-infused surprises from his pipe, ensuring players experience an exhilarating journey filled with fortune.
Game Mechanics and Structure
Max Win: Rainbow Jackpots offers the potential for an impressive 1054x max win, adding an element of thrill to every spin.
Reels and Rows: The game features a classic 5x3 reel setup, creating a familiar yet engaging layout for players.
Paylines: With 20 paylines, the slot provides ample opportunities for winning combinations to unfold.
Volatility: Rated as high volatility, Rainbow Jackpots promises the potential for significant wins, making it a compelling choice for players seeking excitement.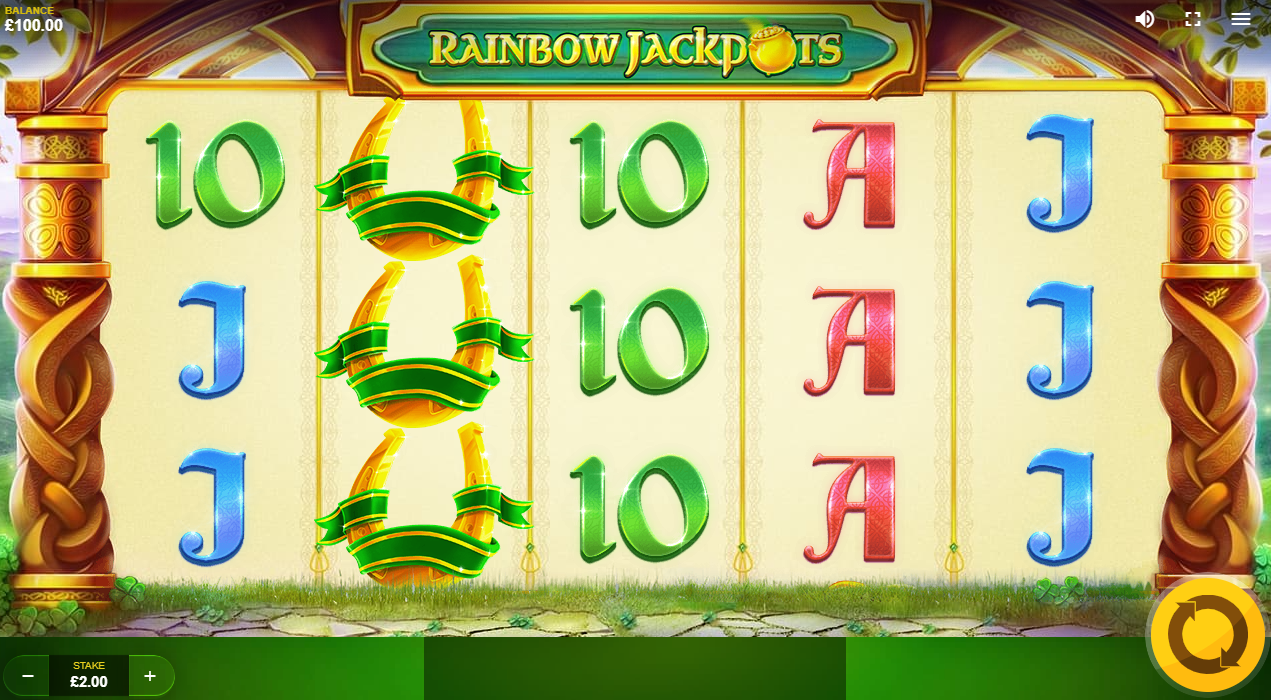 You may also like Rainbow Theme slot games: 
How to Play Rainbow Jackpots? 
Begin by adjusting your bet to suit your preferred stake.
Use the user-friendly controls to increase or decrease your bet amount.
Click the "Spin" button to set the colourful reels in motion.
Watch as the charming symbols, including lucky clovers and horseshoes, align on the 5x3 grid.
Keep an eye out for the mischievous Leprechaun, who adds an element of surprise to your gameplay.
Trigger various bonus features, such as Lucky Leprechaun, Free Spins, and Mega Symbol Swap, for enhanced excitement.
Embrace the thrill of high volatility, where each spin holds the potential for substantial wins.
Stay engaged with the dynamic gameplay, ensuring an exhilarating experience throughout.
Aim to uncover the elusive pot of gold with a generous 1054x max win potential.
The excitement builds as you chase significant rewards in this enchanted Irish adventure.
Delight in the enchanting visuals and captivating design that bring Irish folklore to life.
Let the irresistible Irish charm create a feel-good atmosphere as you spin the reels.
Utilize the AutoPlay feature for consecutive spins without manual input.
For faster-paced action, activate Turbo Mode to accelerate the spinning of the reels.
Familiarize yourself with the paytable to understand symbol values and bonus features.
Access the paytable information for a comprehensive guide to potential winnings.
Enjoy the Rainbow Jackpots experience responsibly, staying within your budget.
Revel in the magic of the Irish-themed slot while maintaining a balanced and enjoyable gaming session.
Bonus Features - A Pot of Gold Awaits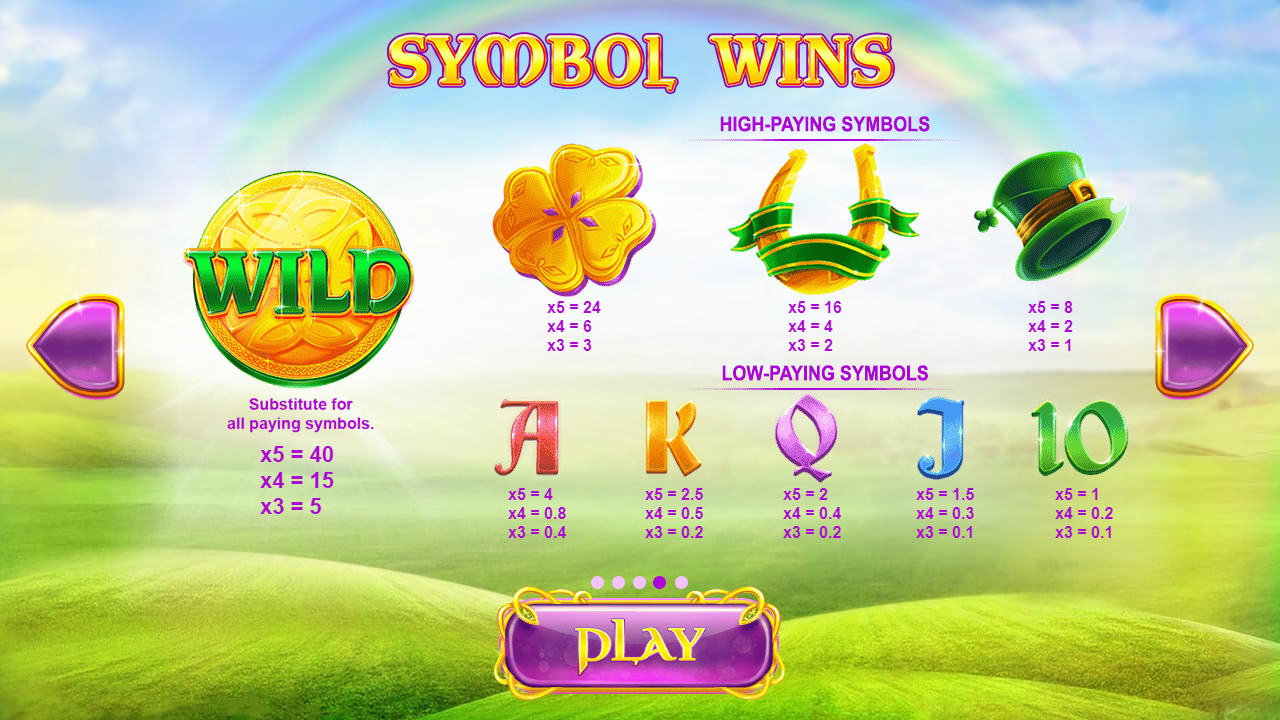 | Symbols | 3 Symbols | 4 Symbols | 5 Symbols |
| --- | --- | --- | --- |
| Wild | x5 | x15 | x40 |
| Golden Clover | x24 | x6 | x3 |
| Golden Horse Shoe | x2 | x4 | x16 |
| Green Hat | x1 | x2 | x8 |
| A | x0.4 | x0.8 | x4 |
| K | x0.2 | x0.5 | x2.5 |
| Q | x0.2 | x0.4 | x2 |
| J | x0.1 | x0.3 | x0.1 |
| 10 | x0.1 | x0.2 | x10 |
Lucky Leprechaun: The mischievous Leprechaun occasionally graces the reels, introducing surprises and enhancing the overall gaming experience.
Free Spins: Uncover the magic of free spins, a classic bonus feature that can lead to substantial wins and extended gameplay.
Mega Free Spins: Elevate the excitement with Mega Free Spins, offering enhanced opportunities for significant payouts.
Symbol Swap: Watch as symbols transform before your eyes, creating new winning combinations and adding an extra layer of dynamism to the game.
Mega Symbol Swap: Experience the magic of larger-than-life symbols with Mega Symbol Swap, a feature that can lead to colossal wins.
Beer Bonus: The Irish charm continues with the Beer Bonus, an entertaining feature that adds an extra layer of engagement to the gameplay.
Triple Beer Bonus: Triple the fun with the Triple Beer Bonus, a unique addition that promises three times the enjoyment and potential rewards.
The Charms of Rainbow Jackpots
Rainbow Jackpots doesn't merely rely on its enchanting theme; it combines it with a host of bonus features, creating a well-rounded and immersive gaming experience. The high volatility ensures that each spin is laden with anticipation, offering players the chance to uncover the elusive pot of gold.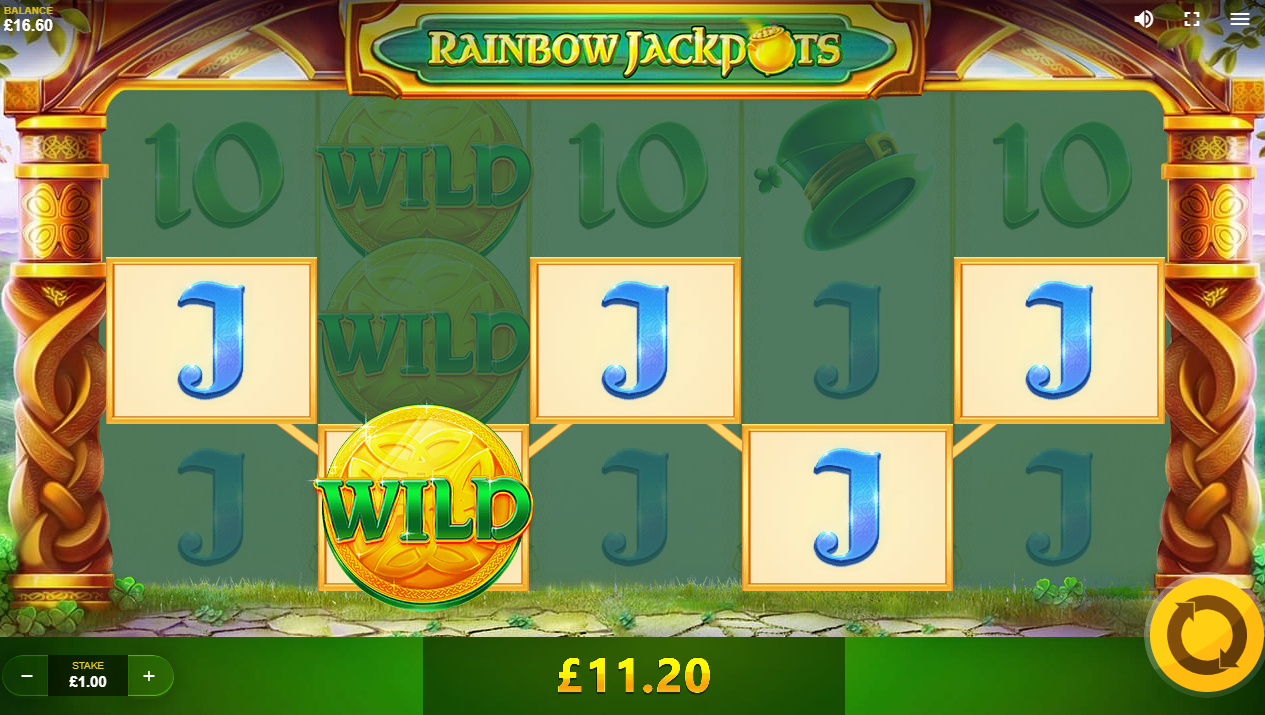 Why Play Rainbow Jackpots?
Embark on a thrilling adventure with Rainbow Jackpots for these enticing reasons:
Max Win Excitement: Chase a 1054x max win, adding an extra layer of thrill to every spin.
Diverse Bonus Fun: Enjoy a variety of bonus features, including Free Spins and the whimsical Lucky Leprechaun.
Irresistible Irish Theme: Immerse yourself in the charm of Irish folklore with delightful visuals and symbols.
High Volatility Thrills: Experience the excitement of high volatility, offering the potential for significant wins.
Engaging Reel Setup: Revel in the classic 5x3 reel setup with a perfect blend of tradition and modern design.
Leprechaun Surprises: Be delighted by occasional appearances of the Leprechaun, adding surprises to your gameplay.
Enchanting Graphics: Imbibe the visual splendor of Rainbow Jackpots with vibrant colors and detailed symbols.
Easy-to-Navigate Controls: Enjoy a seamless gaming experience with user-friendly controls for all players.
Play Rainbow Jackpots for Real Money at Amazon Slots
Red Tiger's Rainbow Jackpots is more than just a slot game; it's a magical journey through an Irish-inspired wonderland. With its captivating visuals, a myriad of bonus features, and the potential for substantial wins, Rainbow Jackpots stands out as a delightful and entertaining choice for players seeking a blend of charm and excitement in their gaming experience.
Embark on this whimsical adventure, spin the reels, and let the magic of Rainbow Jackpots unfold before your eyes. May the luck of the Irish be with you!
FAQs
Q. Can I Play Rainbow Jackpots on my Mobile Device?
A. Absolutely! Rainbow Jackpots is optimized for mobile play, allowing you to enjoy the magical adventure on your smartphone or tablet.
Q. What is the Maximum Win in Rainbow Jackpots?
A. Rainbow Jackpots offers the chance to win big with a maximum payout of 1054x your stake, adding an exciting dimension to the gameplay.
Q. Is Real Money Winnings Possible in Rainbow Jackpots?
A. Yes, Rainbow Jackpots provides the opportunity to win real money as you spin the reels and explore the various bonus features. It's a thrilling journey with the potential for substantial rewards.