Play 100/1 Roulette Online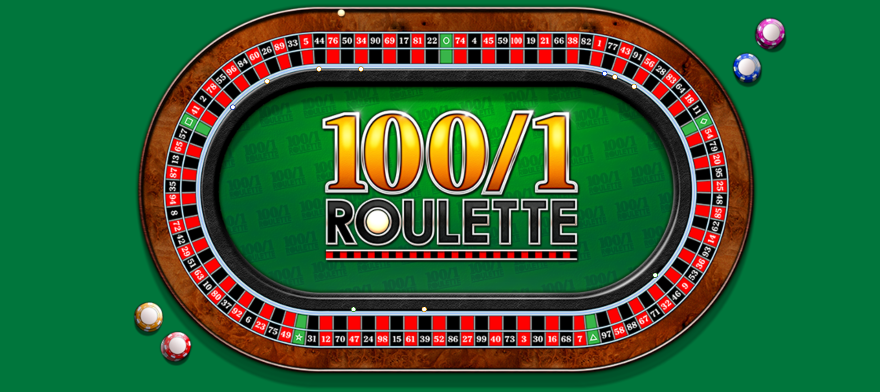 Roulette has always been one of the most popular table games, and now, thanks to Inspired Gaming, you can play 100/1 Roulette at your own table. This online roulette game has 105 potential outcomes, so it's not your conventional table. Instead, there are 100 numbers and four shapes to bet on! So, come and place your bets and see what lady luck has in store for you.
Theme & Visuals
When you think of roulette, you don't automatically imagine that things can be any different to what they normally are. Still, the team of developers at Inspired Gaming has managed to shake up the layout of this roulette by increasing the numbers to bet on. It still looks like a typical roulette table with a green background and red and black numbered squares, just larger. There is also the addition of shapes to place bets on.
A croupier calls out "place your bets" and "no more bets" and the result of each betting round once the ball lands. You also have audio of the ball whirling around and the sounds of chips being placed, which adds depth and richness to the game.
"The larger layout and additional shapes add an extra sense of fun to roulette."
How to Play 100/1 Roulette?
The 100/1 Roulette game comes with a vastly different table and wheel from the more well-known roulette games. This table and wheel are numbered from 1 to 100, as well as five pockets marked with a square, triangle, circle, star or diamond. Based on your bet and the strategy you follow, you can expect an RTP of 92.86% and 96.19%. The game controls are all easy to use and located all along the bottom of your game screen.
Low-paying odds: Even Bets, 10 and 20 Numbered Street 
High-paying odds: 15 Numbered Avenue, Five Numbered Avenue, Corners, Split, Pair and Single Numbers
Betting limits vary depending on what you bet on. The minimum bets for Single, Pairs, Splits, Corners and the Five Numbered Street start at just £0.10 and rise to a maximum range from £250 to £1000. Any other bets have a minimum of £1 and a maximum of £1000 to £10,000. The pay table outlines the various awards. 
| | | | |
| --- | --- | --- | --- |
| Bet | Minimum Stake | Maximum Stake | Pays |
| Single Number | 0.10 | 250 | 100/1 |
| Pair of Numbers | 0.10 | 500 | 49/1 |
| Three Numbers | 0.10 | 750 | 32/1 |
| Four Numbers | 0.10 | 1000 | 24/1 |
| Five Numbers | 1 | 1000 | 19/1 |
| Ten Number Street/Column | 1 | 2000 | 9/1 |
| Fifteen Number Avenue | 1 | 3000 | 11/2 |
| Twenty Number Avenue | 1 | 5000 | 4/1 |
| Even / Odd | 1 | 10,000 | Evens |
| Red / Black | 1 | 10,000 | Evens |
It doesn't take long to get used to the new layout, but if you want to play the 100/1 Roulette free play mode by Inspired Gaming, then a quick online search will find places to try it out. 
If you would like to try other exciting versions of roulette, why not try 10p Roulette, 20p Roulette, Mega Roulette or for something completely different but still a Vegas feel, try Vegas Cash.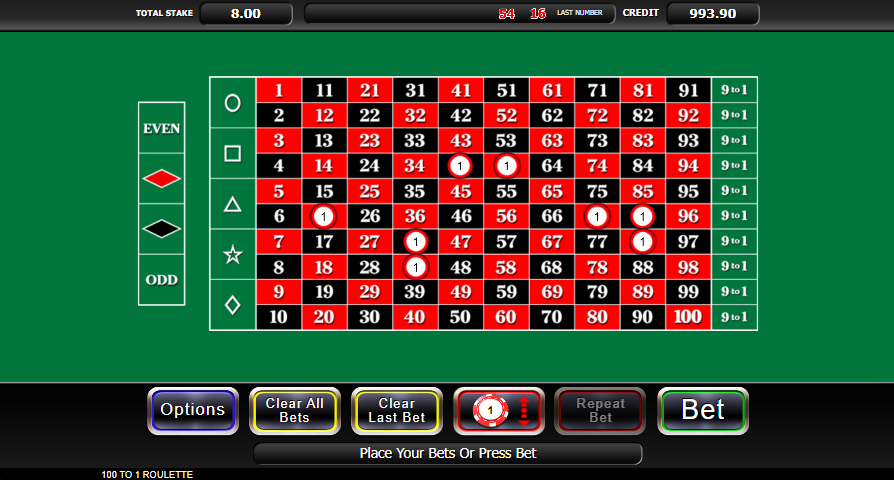 100/1 Roulette Features
This roulette game is played on a unique table and wheel, numbered from 1 to 100, without the traditional zero but rather with five shapes. In all other regards, the roulette game works exactly the same as you would have when playing at a traditional roulette table. 
You can choose whether to play the single numbers or choose from the various other bets in much the same way as other roulette games. The only difference being that there are more numbers in the streets and avenues. You can also bet on the street of shaped pockets, covering them all with one bet, unlike traditional roulette betting options.
"Roulette is always fun, but roulette with additional betting options is exciting!"
100/1 Roulette Slot Summary
100/1 Roulette from Inspired Gaming has all the elegance you would expect from a traditional roulette game, except it's super-sized. The larger numbered table and wheel provide excitement and additional betting options for betting on shapes, which all bring the chance to win bets at 100/1.
Place your bets on 105 outcomes in 100/1 Roulette!
FAQ
Q: Where can I find the paytable?
A: You can access the paytable from the "Options" menu at the bottom left of the screen. 
Q: How do I change my bet?
A: You can change your bet using the casino chip icons. Here you can select a bet from just £0.25 to £100.
Q: What are the outside bets?
A: The outside bets consist of the Red/Black and Odd/Even bets.